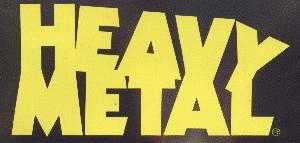 It all started when I picked up my first copy of Heavy Metal in a bookstore across from the movie theater on Santa Monica Boulevard in the Spring of 1977. I had never seen Science Fiction & Fantasy presented like this before! Sub-titled The adult illustrated fantasy magazine, I was captivated by the graphics and story lines in Heavy Metal. And the For adults only clinched it. I was hooked!

Brought out by the publishers of National Lampoon, I had not seen it's inspiration Métal Hurlant,

a French magazine put out by the Associated Humanoids

(Druillet, Dionnet, Moebius, and Farkas), which was conceived at 4 A.M. on the nineteenth of December, 1974, on the feast of Bishop Nicasius. I soon started browsing comix and magazine racks for work by these and other artists of the new genre.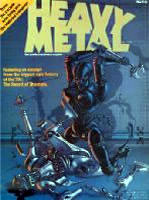 I have been either subscribing or picking up copies, and the occasional special editions, whenever I have had the money since that day. Yes, I do have a copy of Heavy Metal #1, though stained and missing it's front cover (see the photocopy of the missing cover, left) so no midnight burglaries need be contemplated. I've filled bookcases with Heavy Metal and it's contemporaries like Marvel's Epic Illustrated and Warren's 1994. I have also added several Comix to the collection by R.Crumb, Vaughn Bode, Aline Kominsky-Crumb and others from Kitchen Sink Enterprises, Last Gasp, and other publishers.
I'll list some of my favorite issues from Heavy Metal (and others.) I'll also include some reviews from newer Graphic Novels by some of the authors and artists I found in Heavy Metal and others. Then I'll give you some links to places on the Web that you can check out if you want to see more of what I'm raving about. Maybe you'll get obsessed too!
You are visitor #
since February 24th, 1998